Edited and Photographed by Yukio Futagawa
Text by Bruce Brooks Pfeiffer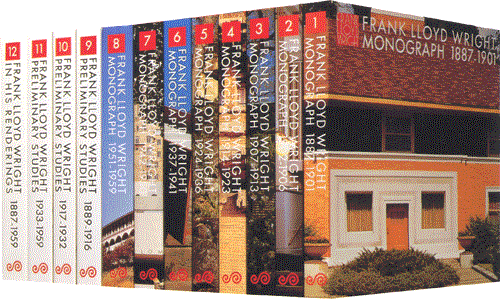 Thanks to the kind cooperation of The Frank Lloyd Wright Foundation we have been able to compile, for the first time in history, the complete works of Frank Lloyd Wright. Of the 12 lavish volumes, volumws 1 through 8 are monographs which comprehensively survey Wright's known buildings and projects through photographs, drawings and text. Volumes 9 through 11 illustrate the development of Wright's genius through preliminary studies and sketches of pivotal works. Volume 12 comprises 200 renderings which have been carefully selected to convey the essence of Wright's drawings.
English & Japanese texts
size: 300 × 307 mm

---
01
Monograph 1889-1901
02
Monograph 1902-1906
Frank Lloyd Wright Residence (1889)
James Charnley Residence (1891)
George Blossom Residence (1892)
William H. Winslow Residence and Stable (1893)
Francis Apartment (1895)
Chauncey L. Williams Residence (1895)
Harley Bradley Residence (1900)
Ward W. Willits Residence (1901)
Warren Hickox Residence (1900)
Frank Thomas Residence (1901)


252 total pages, 30 in color
Hard Cover: ISBN 978-4-87140-512-6 /
Out of Print
Paperback: ISBN 978-4-87140-530-0 /
Out of Print


Arthur Heurtley Residence (1902)
Francis Little Residence (1902)
George Barton Residence (1903)
Edwin H. Cheney Residence (1903)
Unity Temple (1904)
Darwin D. Martin Residence (1904)
W.R. Herth Residence (1905)
Thomas Hardy Residence (1905)
F.C. Robie Residence (1906)
P.A. Beachy Residence (1906)


280 total pages, 24 in color
Hard Cover: ISBN 978-4-87140-513-3 /
Out of Print
Paperback: ISBN 978-4-87140-531-7 /
Out of Print

03
Monograph 1907-1913
04
Avery Coonley Residence (1907)
F.F. Tomek Residence (1907)
Burton Westcott Residence (1907)
Robert Evans Residence (1908)
Isabel Roberts Residence (1908)
Mrs. Thomas Gale Residence (1909)
George Stewart Residence (1909)
E.P. Irving Residence (1910)
O.B. Balch Residence (1911)
Franci Little Summer Residence (1912)


288 total pages, 24 in color
Hard Cover: ISBN 978-4-87140-514-0 /
Out of Print
Paperback: ISBN 978-4-87140-532-4 /
Out of Print

Imperial Hotel (1915)
F.C. Bogk Residence (1916)
Aline Barnsdall Residence (1917)
Stephen Hunt Residence (1917)
Yamamura Residence (1918)
Jiyu Gakuen School (1921)
Charls Ennis Residence (1923)
Samuel Freeman Residence (1923)
Mrs. Alice Millard Residence (1923)
John Storer Residence (1923)


284 total pages, 34 in color
Hard Cover: ISBN 978-4-87140-515-7 /
Out of Print
Paperback: ISBN 978-4-87140-533-1 /
Out of Print

05
Monograph 1924-1936
06
Monograph 1937-1941
Frank Lloyd Wright Taliesin III (1925)
Biltmore Hotel (1927)
Darwin Martin Residence (1927)
Richard Jones Residence (1929)
Tariesin Fellowship Complex (1933)
Molcolm Willey Residence (1933)
Edgar Kaufmann Residence (1935)


288 total pages, 66 in color
Hard Cover: ISBN 978-4-87140-516-4 /
Out of Print
Paperback: ISBN 978-4-87140-534-8 /
Out of Print

Paul Hanna Residence (1936)
C.R. Hoult Residence (1936)
Herbert Johnson Residence (1937)
Ben Rebhuhn Residence (1937)
Frank Lloyd Wright Taliesin West (1937)
Temporary Sun-Trap Residence (1937)
Florida Southern Collage (1938)
Charles Manson Residence (1938)
John Pew Residence (1938)
Andrew Armstrong Residence (1939)
Joseph EuchtmanResidence (1939)
Lloyd Lewis Residence (1939)


336 total pages, 60 in color
Hard Cover: ISBN 978-4-87140-517-1 /
Out of Print
Paperback: ISBN 978-4-87140-535-5 /
Out of Print

07
Monograph 1942-1950
08
Gregor Affleck Residence (1940)
Theodore Baird Residence (1940)
Carl Wall Residence (1941)
Herbert Jacobs Residence (1943)
Arnold Friedman Vacation Lodge (1945)
Herman Mossberg Residence (1946)
Unitarian Church (1947)
Maynard Buehler Residence (1948)
Kenneth Laurent Residence (1949)
Dr. Isadore Simmerman Residence (1950)


376 total pages, 36 in color
Hard Cover: ISBN 978-4-87140-518-8 /
Out of Print
Paperback: ISBN 978-4-87140-536-2 /
Out of Print

Charles Glore Residence (1951)
Russell Kraus Residence (1951)
Price Tower (1952)
Harold Price Residence (1953)
Robert Llewellyn Wright Residence (1953)
Beth Sholom Synagogue (1954)
Max Hoffman Residence (1955)
Annunciation Greek Orthodox Church (1956)
Wyoming Valley School (1956)
Arizona State Unviersity (1959)


408 total pages, 24 in color
Hard Cover: ISBN 978-4-87140-519-5 /
Out of Print
Paperback: ISBN 978-4-78140-537-9 /
Out of Print


09

| | | |
| --- | --- | --- |
| Prelimininary Studies 1889-1916 | | |

10

| | | |
| --- | --- | --- |
| Prelimininary Studies 1917-1932 | | |

Williama H. Winslow Residence (1893)
Frank Lloyd Wright Studio (1895)
Susan Lawrence Dana Residence (1923)
Unity Temple (1904)
Avery Coonley Residence (1907)
Sherman Booth Residence (1911)
Frank Lloyd Wright Taliesin II (1914)
Midway Gardens (1913)
Imperial Hotel (1915)
Joseph Bagley Residence (1916)


220 total pages, 24 in color
Hard Cover: ISBN 978-4-87140-520-1 /
Out of Print
Paperback: ISBN 978-4-87140-538-6 /
Out of Print

Aline Harnsdall Residence (1915-20)
Lake Tahoe Summer Colony (1922)
Charles Ennis REsidence (1923)
Doheny Ranch Resort (1923)
"Little Dipper"
Alice Millard Residence (1923)
John D. Storer Residence (1923)
Century of Progress (1931)


220 total pages, 30 in color
Hard Cover: ISBN 978-4-87140-521-8 /
Out of Print
Paperback: ISBN 978-4-87140-539-3 /
Out of Print

11

| | | |
| --- | --- | --- |
| Prelimininary Studies 1933-1959 | | |

12

| | | |
| --- | --- | --- |
| In His Renderings 1887-1959 | | |

Rose and Gertrude Pauson Residence (1939)
Arch Oboler Residence (1940)
The Rogers Lacy Hotel (1946)
Play Resort and Sports Club (1947)
Civic Center for Pittsburgh Point (1947)
Self Service Parking Company (1955)
"Golden Beacon" Apartment Tower (1956)
"Oasis" Arizona State Capitol (1957)
Museum for Baghdad (1957)


244 total pages, 36 in color
Hard Cover: ISBN 978-4-87140-522-5 /
Out of Print
Paperback: ISBN 978-4-87140-540-9 /
Out of Print

Amusement Park (1895)
Lexington Terrace (1901)
Larkin Company (1903)
Midway Gardens (1913)
Lake Tahoe Summer Colony (1922)
San Marcos in the Desert (1928)
Fallingwater (1935)
Solomon R. Guggenheim Museum (1943-59)
V.C. Morris Residence (1945)
Mile High Office Building (1956)

296 total pages, 156 in color
Hard Cover: ISBN 978-4-87140-523-2 /
Out of Print
Paperback: ISBN 978-4-78140-541-6 /
Out of Print